Gyms in Pattaya
So here I am, in the classiest city in Thailand, known famously for its "massages". Oh and there's a beach. Its close proximity to Bangkok makes it a popular tourist destination for all these reasons, and sure enough, this place is crawling with farang, as the Thai people call us. Why am I here? Because with such extensive coverage of gyms in Thailand now, to omit gyms in Pattaya would just be wrong. So here I am!
As usual, click on individual gyms links for full details of its facilities, images, location etc, or you can just read summaries and my comparisons below.
Overview
The first thing that struck me about gyms in Pattaya was the size of them. Every single one was large and well equipped. Plus Sport Club Pattaya (part of P Plus Hotel) was smaller than the others, but even this was medium-sized and had a fair range of equipment for all types of workout.
The next thing to mention is the aircon. Nearly all the gyms I used have aircon, but don't expect it to be at the levels you are used to back home. Sure, it's a lot better than nothing, but it was often irratically effective or only in use at certain times of days in most clubs. It would also vary a lot from room to room and even depended on which part of the room you might be in.
Cost
The five gyms in Pattaya that I visited ranged from 140 baht to 350 baht per session, with the four gyms in the town centre starting from 200 baht. However, Universe Gym is not too far away, near the corner of where Central Pattaya Road meets Sukhumvit Road, and it's excellent value for money and in very decent condition.
Affordable and Reliable Transport Around Asia 
The Gyms in Pattaya (most expensive first)
1. Fitness 7 Pattaya (350 baht)
2. Coco Fitness (299 baht)
3. Plus Sport Club (300 baht)
4. Tony's Fitness – 200 baht (decided not to use*)
5. Universe Gym – 140 baht 
What stands out at Fitness 7 Pattaya is its dedicated airconditioned room. Fitness 7 Pattaya doesn't claim to air-condition everywhere at varying levels of effectiveness – it has a medium sized room with a good mix of cardio and weights and it air-conditions this very well. If you want anything outside of this room, the main room is just fan cooled. Its weights section in the main room is awesome though and surpasses its neighbour Coco Fitness below here.
Overall this Pattaya gym is huge, well-equipped and reasonably modern. Its central location is also ideal, as well as its 24/7 opening hours, but all this comes at a hefty price tag. This place also has a boxing ring.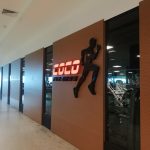 Coco Fitness is also very centrally located, close to Fitness 7. It's a little cheaper and also has air-conditioning, which worked irratically. When I went, the large weights room was a good temperature, whilst the cardio / functional room was initially a cool temperature but was significantly warmer than the weights room by the time I finished. The studio didn't seem to have it switched on at all, but hosts 12 classes a week.
In terms of equipment, the cardio machines here will give you a lovely view of the beach and lots of natural daylight. However, the weights area is here is relatively small compared to Fitness 7- just one rack of dumbbells up to 50kg. However there's plenty of weight-training equipment in this large room, just not so many dumbbells.
Book Top-Selling Tours with Get Your Guide – Beat The Queues! 
Plus Sport Club is the smallest gym in Pattaya that I found, but it's still medium sized overall! I actually liked it, as it's much easier to find what you need in a new gym when it doesn't have three different rooms! It's still fairly central, but is 1km inland from both Coco Fitness and Fitness 7 Pattaya. It could be your closest gym, depending on where you're staying. Like the others, you're paying a premium for a central location. This club is air-conditioned during certain hours only, but was comfortable with fans on when I went late morning.
You'll find dumbbells up to 50kg and a fair selection of other weights and cardio equipment. Functional training equipment is limited but they've provided plenty of floor space in this attractive gym.
4. Tony's Fitness (200 baht)
Tony's Fitness remains one of life's mysteries to me – how do they get members? I went to the branch on South Pattaya Road, which is large and well equipped with weights, but it's also old, not very attractive, and has no aircon anywhere in it. It has little aesthetic appeal at all and its location is further out too. I'd expect it to be half this price, given the state of it. There's another one closer to Central Pattaya Road too, but this one offered 50% discounts for any women born after May 1989!
To all the girls out there wanting a date, please be aware that when I went, this Pattaya gym was frequented by men aged 50+ only! If you were born after 1989, trust me, you will not want to date the average punter here. It might be cheaper than the others but read on below for a FAR superior gym, which is much cheaper!
This was my favourite gym in Pattaya and easily the best bang for buck. Sure, it's a little further out, but combine it with a trip to Big C / shopping mall on the way back and it's well worth the effort. I walked from town both times. Universe Gym Pattaya is the joint biggest gym I found and is air-conditioned. I went twice and the aircon was especially effective in the weights area, followed by the cardio area. Upstairs is only airconditioned in the afternoons I was told, (this section has additional cardio, additional weights and the whole functional training area) and I only trained during the mornings.
You'll find a huge weights area at Universe Gym (up there with Fitness 7 Pattaya) with duplicates. Equipment is of medium age, which is not an issue for weights, though you'll find better cardio equipment elsewhere. The huge amount of space and functional training area / gym toys is another plus. If you're on a budget, this place is a must. And even if you're not, why pay more?
Compare Prices on Booking.com, Agoda, Expedia, Hotels.com and more!"
Where To Stay in Pattaya
I stayed at OYO Nakorn Siam Hotel, a great budget hotel, close to the centre but in a quiet area so you can easily sleep and get away from the party scene if you wish! It was convenient for all the gyms – I deliberately positioned myself within 20 mins or so walk of all of them. The rooms are lovely too for around 400 baht a night!
Which Gym Should I Pick?
Best for Location
If you're staying centrally by the beach and don't want to go far, then your closest options are Coco Fitness and Fitness 7 Pattaya. Either would suffice and they are both excellent, though if you want reliable aircon, Fitness 7's airconditioned room won't disappoint. Likewise, if you want a huge selection of free weights, Fitness 7 has many duplicates. Coco Fitness is a little cheaper though and it also has classes though in a rather warm studio when I visited. Both gyms are pretty modern and attractive.
Best on a Budget
As mentioned, you cannot beat Universe Gym for value for money. Overall its equipment is probably a little older than Coco or Fitness 7 (especially cardio), but it's still an attractive gym which caters well for all types of training.
Best For Functional Training
All of the big three have attractive areas for this – Coco, Fitness 7 and Universe.  All of these are well equipped with gym toys. Fitness 7 probably has the best variety, but Universe Gym was the only one with a rig, and it has a good variety too. Plus Sport Club has space and less people in it, but not many gyms toys.
Best for Weights
It's between Fitness 7 and Universe Gym again! Both have a huge range and both were fairly busy as a result. It'll come down to your budget and location.
Best for Cardio
This one is between Coco Fitness and Fitness 7 Pattaya. Coco is airconditioned, but irratically – it has awesome views of the beach from its cardio area though! Fitness 7 meanwhile has a dedicated airconditioned room, so you'll have all the comfort with a less interesting view. Go off peak if you opt for this choice though – there's a fair selection of cardio equipment in here but it may well get busy in peak periods. Otherwise you can go through to the main room in any case.
Want a more Low-Key Gym?
Plus Sport Club has everything most people would need for a workout. As it's a little smaller, it's easy to find what you want and it claims to be air-conditioned from lunchtime until 20:00 each day. It's also part of a nice-looking hotel. So if budget is not an issue, you could stay here and have all this at your fingertips!
Summary of Gyms in Pattaya
I hope this has helped to inform you of the most central available options in Pattaya – there are other gyms further out, but as I'm on a budget (and busy with this website!) I didn't venture any further as I didn't need to. If you found this useful, please consider supporting me, as I rely on this to fund my travels and keep producing content to help you, my readers – thank you again and have a great workout!
Enjoyed this?
Support Me Please ?
Global Gym Bunny aka Laura has been travelling for three years, writing about gyms across the globe. If you enjoyed this article, support her here by buying her a coffee or giving a small donation to her travel expenses! Thank you.
Please Like me on Facebook and check out my Global Gym Bunny Shop.
Want Some Tips on Keeping Fit Travelling?
Check out my Five Top Tips For Keeping Fit Around the World.