Gyms in Kanchanaburi
Hey! Welcome to my page on Gyms in Kanchanaburi.
Whether you're here to see the bridge over the River Kwai and / or the nearby Erawan waterfall, Death Railway or hike, Kanchanaburi is a beautiful laid back town to spend some in. I spent a week here, using a bicycle (easy to rent for around 40 baht per 24 hours) to get around. The town is quite spread out, so it's well worth doing this at least once to see everything, especially if you're travelling on a budget.
Naturally you'll be wanting some exercise whilst you're here, so I'll fill you in on my gym findings. I used a total of four gyms in Kanchanaburi during my time here, looked for a fifth that seemed to only exist on Google maps, not reality, and discovered a sixth that is due to open in April 2020.
Locations of Gyms in Kanchanaburi
In terms of their locations, only one gym I used is centrally located, close to most accommodation, which is SC Fitness. Kanchanaburi Fitness Park is the second most centrally located – best of all, this is free (yay!) but won't have the same facilities as your regular indoor gym.
Two of the gyms I used were further out of town. DNA Gym Kanchanaburi was 2km away and H1 Fitness Society was nearly 4km, taking the railway station as the town centre. V Fitness (opening soon) is close to H1, ie 3.4km out of town.
Book Top-Selling Tours with Get Your Guide – Beat The Queues! 
Here is a list of the gyms I visited below. Please click on individual links for full info on these gyms or read their summaries and make your own mind up. I've listed the ones I have used in price order, followed by the others.
5. V Fitness – 79 baht(?)
6. Taurus Gym (non-existent)
The Gyms 
This is not your regular gym – it's a big outdoor fitness park! Before you dismiss it, bear in mind there is a really nice running track here in pretty surroundings, without any traffic noise whatsoever. So, even if you don't do outdoor gyms, I recommend it for runners! Whilst there isn't much here for weight trainers, much of the equipment has bars and benches. So, you can use these for body weight exercise, and there's a tonne of space here to do everything else.
SC Fitness is the most accessible gym in Kanchanaburi, bang in the centre! If you're a backpacker on a budget, you can't go wrong here. The gym has no aircon however and equipment is fairly old. This Kanchanaburi gym is a reasonable size, but considerably smaller than DNA Gym, and definitely a step down in terms of its facilities. But there's plenty here for a good weights or cardio workout, though it has limited functional equipment. It's pretty spacious though, so if it's floor space you're after, you can easily create some. When I attended late morning, I was the only person using the gym for the entire 90 minutes I was there!
Hands down, my favourite gym in Kanchanaburi – probably the easiest town to make a decision on. Yes, you have to get there (it's 2km out), but this modern gym has full aircon, an excellent selection of weights and cardio equipment, as well as a rig with a good selection of functional equipment. There's also loads of floor space here. Plus it's modern and both the equipment and decor look pretty new. A total bargain for the price and easily the best gym here that's currently open as I write this.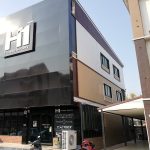 Having already been to DNA Gym, I had high expectations from a place that I already knew was three times the price. To put it mildly, I was underwhelmed. H1 Fitness Society is tiny, and whilst modern and attractive, it has only a fraction of the space of any other gym in this town. Plus it's the furthest out of town. No idea how they came up with this price structure – give it a miss. The only positive is that it has a small class timetable in its upstairs studio, though I didn't stay to do one.
V Fitness – 79 baht(?)
I've put a question mark about the price because V Fitness Kanchanaburi isn't open yet, as I write this. However they have done a good job of letting their presence be known on Google and have a Facebook page already. 79 baht is the rate currently displayed. I actually turned up, not realising that it hadn't opened and peered through the windows! A passer-by helpfully explained that the signs in the window said it would open soon, which I later learnt would be 5th April 2020 (though don't rely on what I was told mid Feb!). I couldn't see a lot, but I get the impression it's a large facility and likely to have brand new equipment. Certainly the building looks modern and attractive.
Taurus Gym (non-existent)
Well, I cycled to its location on Google and stopped to consult the map again. Yep, I was definitely in the right place. But where the gym should be, I could only see the image shown – a load of overgrown grass (it's not in the house). However I did cycle on a bit further, and if you look down the next road to your right, there are a few bit of equipment at the side of the road, which look like what you'd find at Kanchanaburi Fitness Park. I'm not convinced this small selection qualifies as a gym though, and it's very out of the way!
Which Kanchanaburi Gym Should I Pick?
Well, it all comes down to personal choice and what you want out of your workout. If you're on a budget and don't need weights, you can't beat the free outdoor gym which is Kanchanaburi Fitness Park. The mornings are not that hot and in my opinion is the best time to train outside. It's peaceful, you're in a workout-focussed area with other people training and it's fairly close to the centre.
If you do want to use weights, the real dilemma is whether you opt for the central SC Fitness (without aircon), or if you're happy to travel 2km to DNA Gym, which does have aircon and is overall much nicer. If budget isn't a huge factor for you, I strongly recommend cycling (or otherwise) the extra mile to DNA Gym as it really is well worth it for the facilities.
From what I could see of V Fitness Kanchanaburi, it has a lot of potential to be competition to DNA Gym when it opens. It's 3km south of DNA and 3.5km from the railway station. So, a little further out and 10 baht more, but I get the impression it might have a similar level of facilities. Let me know if you go!
Affordable and Reliable Transportation Around Asia 
Summary of Gyms in Kanchanaburi
I hope this helps you to pick a Kanchanaburi gym which suits your needs and that you enjoy your time in Kanchanaburi and the rest of Thailand. I've covered lots of other Thai cities and a few islands too, so please check out my Gyms in Thailand page!
Enjoyed this?
Support Me Please! ?
Global Gym Bunny aka Laura has been travelling for three years, writing about gyms across the globe. If you enjoyed this article, support her here by buying her a coffee or giving a small donation to her travel expenses! Thank you.
Please Like me on Facebook and check out my Global Gym Bunny Shop.
Want Some Tips on Keeping Fit Travelling?
Check out my Five Top Tips For Keeping Fit Around the World.