7 Days Fitness Penang
Level 3, M Mall, 20 Jalan Penang, Georgetown, 10050, Penang
Opening Hours: Mon – Fri: 8:00 – 22:00, Sat and Sun: 8:30 – 22:00
Public Holidays: 9:00 – 22:00
Cost: Day Pass = RM 38, monthly rate is normally RM 130 (no contract) or check out Fave for an amazing rate of RM 80 for a month! Upon request, I was given one free trial day.
Location
7 Days Fitness Penang is excellently located in the centre of Georgetown, inside M Mall. In turn, this is a just a few minutes walk from the fabulous Gama Supermarket – a great place to go afterwards to refuel cheaply and healthily. The mall is easy to find and you can either take the lift or escalator up to the third floor. It's not a big mall so you'll find 7 Days Fitness and its striking entrance easily. Instead of using the main entrance, use the door to the right where it says Lift Lobby. This is the shortest way up and usually the fastest as there are 3 lifts!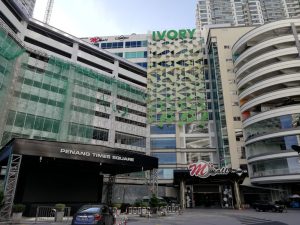 Facilities
This club is probably one of the most beautiful gyms I have ever seen. And I don't usually talk about gyms in terms of their beauty! The decor is stunning and decorated with faux-foliage. The ambient lighting also makes it highly photogenic – I could barely stop myself snapping pic after pic here!
This medium-large gym is extremely well-equipped with modern equipment, logically grouped into cardio, weights and two functional training/floor space areas! You'll also find a Spinning studio and regular class studio here.
7 Days Fitness Penang was a comfortable temperature throughout my workout and had both fans and air-conditioning. It's not as cold as some gyms, but you'll certainly feel the benefit of the aircon.
Free hot and cold water are provided here and I also saw tea and chocolate powder on the side. I'm not sure if this was up for grabs or not, but the "Healthy Bar" sold oatmeal (or porridge as we call it at home!), sandwiches, protein shakes and other healthy-looking options and there's an attractive seating area in the middle of the action where you can catch your breath.
The changing rooms and showers were also meticulously clean and I found around five or six showers, and the same number of toilets. There are also private changing cubicles.
Travel Insurance For Adventurers – Loads of Activities Included!
Weights
You'll find an attractive and spacious weights area here at 7 Days Fitness Penang. I found dumbbells up to 40kg, all neatly racked, and an excellent number of barbells. These ranged from 10 – 45kg, with 10 – 20kg going up in 2.5kg increments and 25 – 45kg in 5kg increments. Note that the barbells are all curled.
You'll also find a Smith machine, squat rack and three bench presses, one each of inclined, declined and flat. There's a cable crossover machine with pull up bars too (no extra pulleys on it). You'll find an additional pull up station around too. Note that there is no seated lat pulldown station, you'll need to use one of the two pulleys attached to the cable crossover.
I saw a good range of both plate and pin loadable resistance machines here. Plate loadables include a seated calf-raise, supine press, shoulder press, incline press, incline leg press and seated row. You'll find the usual mix of upper and lower body pin-loaded resistance machines as well.
There's also a couple of abs benches and a hip extension.
Cardio
7 Days Fitness Penang has a pretty good range and number of cardio machines. I found fifteen treadmills, five crosstrainers, four upright bikes and three recumbent bikes. You'll also see two rowing machines elsewhere in the gym, as well as two extra upright bikes and a treadmill by reception.
Book Top-Selling Tours with Get Your Guide – Beat the Queues! 
Functional Training
You'll find not one, but two significant floor space areas here! Yep, that's in addition to the studio!
The first area is next to the cardio equipment and offers two Swiss balls, two step-boards and a good range of kettlebells up to 28kg, with clear weight markings! Sometimes determining the weight of a kettlebell can be something of a challenge, even with 20/20 vision. You'll also find several yoga mats here, probably the only slightly tatty equipment you'll find here.
You'll also find an abs roller, some lightweight dumbbells, minihurdles and medicine balls up to 8kg.
Around the gym, there are two green, marked floor areas resembling a lane with numbers from 1 – 32. You'll also find some battleropes in the weights area.
The second floor space area is close to the entrance and focusses on Rip 60, which looked to be a full body suspension trainer, rather similar to TRX. You'll find an overhead rig here, along with plenty of floor space and yoga mats. I found 3 Rip 60s in total, along with two hanging punchbags and a step board.
Studios and Classes
The club has around ten Spinning classes a week and sixteen regular studio classes. These include Body Pump, Functional Traninig, Circuit Training, Zumba, Abs, Cardio Kickboxing and Speed Power Strength classes.The Spinning studio is lit with fluorescent blue lighting, whilst the main studio has more traditional colours. Both looked very new and in excellent condition.
The main studio contained Swiss balls and step boards, as well as Body Pump equipment, ie disc weights, bars and yoga mats.
Summary
7 Days Fitness Penang is absolutely superb, and unbelievably well priced. RM 130 a month would be very reasonable, especially when there is no tie-in period, but RM 80 is just fantastic through Fave. This sort of gym is exactly what I would personally hope to find everywhere as a traveller – a fair price for a short-medium term membership. I confirmed with the club that this is the cheapest offer available and it is.
The daily rate is fairly expensive, but if you're going to train more than twice, you may as well pay for the month. This is exactly what I did, and seemed like a good reason to spend some extra time to Penang. This clean, quiet and stunningly modern attractive gym absolutely ticks all my boxes, thank you 7 Days Fitness!
Want an Overview of all Gyms in Penang?
I went to eight different gyms here and I've summarised, compared and recommended my favourites for each budget level. Check out Gyms in Penang.
Support Me Please 🙂
Global Gym Bunny aka Laura has been travelling for three years, writing about gyms across the globe. If you enjoyed this article, support her here by buying her a coffee or giving a small donation to her travel expenses! Thank you. ?
Please Like me on Facebook and check out my Global Gym Bunny Shop.

Thinking of going to Thailand next?
Check out my piece on Getting a Thai Visa in Penang.