Gyms In Phuket
Hey and welcome to my page on gyms in Phuket. I hope you're enjoying my favourite country, where I spent a semester teaching last year, attempting to impart my great knowledge of Mathematics to 8-12 year old Thai children. But that's another story(!) – for now we'll focus on gyms.
As the largest island in Thailand, there are quite a lot of gyms in Phuket to get around. I focussed my time here on three main areas during my two-week stay – Phuket Town, Karon and Kata, so I'll let you know what I found in these parts.
Overview
To generalise, the standard of gyms in Phuket Town was excellent. You can enjoy large air-conditioned facilities on par with Western gyms. The standard here far surpassed that in Karon and Kata, which are small beach towns. This wasn't a huge surprise to me, but the massive difference in size and facilities was more extreme than I anticipated. Not only were the gyms in the main town far better, but they were roughly the same price or even less than the ones in Karon and Kata.
So if you're looking to train regularly and want somewhere to base yourself, Phuket Town is ideal. This is especially true considering that public transport in Phuket all tends to go from the town direct to a beach, and direct transport between beaches is uncommon. (Karon and Kata are an exception, I believe because it is the same bus which goes from town, through Kata to Karon.)
Book Top-Selling Tours with Get Your Guide – Beat the Queues! 
Cost
In Phuket Town, I visited five gyms and the cost ranged from 120 baht to 390 per day. (Four of the five were 200 or less) Realistically you can train in a large, well-equipped gym with quality equipment for 150 – 200 baht a go.
Gyms in Karon came in at 200 baht and a whopping 350 baht respectively for much smaller facilities, whilst the third option I found appeared to be permanently shut and didn't respond to messages, but I've since learnt a day pass is 190 a day – if they are there.
Head down to Kata and you'll find similarly small gyms, but overall more budget-friendly ones – two of them cost 200 a go and one cost 150 (though once I saw it, I was willing to pay the extra 50!).
Where to Stay
I based myself close to both Walking Street and Bus Station 1, though proximity to these was secondary to my reasoning – I wanted to be close to the gyms and this spot seemed central to the key ones. I stayed in two different hostels both of which I highly recommend – the difference is purely in budget and they are practically next to each other. The more upmarket hostel White Wall Poshtel is super-comfy, has unlimited boiled-eggs, toast, bananas and coffee for breakfast (yay, protein feast!) and lovely common areas. It offers private rooms and dorms.  Bed Hostel is much cheaper and also has a very nice common area and comfy beds in dorms with no windows. Breakfast here is a lot more basic as you'd expect for the money. Both were clean and I slept well.
Gyms in Phuket Town
So, we'll start with Gyms in Phuket Town, or click to scroll down to Gyms in Karon or Gyms in Kata. I'll begin with the most expensive gym first. In terms of their locations, Club Asia Fitness, followed by Workout Club Fitness & Muay Thai are the best located, due to their proximity to Walking Street and the most of the accommodation which surrounds it. For me Club Asia was closest, just five minutes away from my accommodation.
Let's start at the top end of the price range! Workout Club Fitness & Muay Thai is a top of the range club which contains a medium-sized mainstream gym, in addition to a large Muay Thai area, which holds three Muay Thai classes a day. (Note that entry for Muay Thai is 490 baht, but includes the gym too.) The gym itself hosts all new equipment in a fairly well-airconditioned area, whilst the Muay Thai area is open-air. It's well equipped with weights and cardio equipment but only has a small functional training area – you could sneak into the yoga studio or Muay Thai area for this though.
Personally I find the gym-only price pretty hefty and personally wouldn't pay this when there are other more viable options. Location-wise, you'll find this club just a few hundred metres southwest of Walking Street.
Club Asia Fitness is a truly superb facility at a bargain price, well-located close to Walking Street, just east of it. As well as a modern weights gym and cardio gym, Club Asia Fitness Phuket also has a very inviting outdoor pool with sun loungers! That's in addition to the group exercise studio (including 38 classes) and Spinning studio. This place was a real find! All facilities were clean, modern and well-airconditioned – if anything, slightly better so than Workout Club (without being unpleasantly cold). Dumbbells go up to 100lbs.
The main negative was that the dedicated floor space area for stretching / functional training is very small. However I saw people using the spacious Spinning studio for this purpose when it wasn't in use and you could probably use the main studio too.
You'll find SmartGym Fitness Phuket a little further away from the main accommodation, a few hundred metres south of Club Asia and 1km from Walking Street. If you like to lift heavy, you might be pleased you made it though – you'll find a HUGE rack of dumbells here up to 100lb, including duplicates, AND further weights upstairs. That's in addition to a number of plate-loadable machines and regular resistance machines. They also cater well for cardio enthusiasts.
Smart Gym Fitness is set over two floors and upstairs is largely dedicated to functional training, however the aircon was not switched on (anywhere) when I went, making it rather hot upstairs. Downstairs was an adequate temperature due to plenty of fans and I trained late morning before temperatures peak. The studio has aircon and runs ten classes a week.
Hi Gym Phuket is a little further out of town, on the southwest side, beyond Workout Club. It's over 1km from Walking Street. But to make it worth your efforts, you can save 50 baht by training here! This large, high-ceilinged club has no aircon in the main gym, but a lot of fans to cool you down. A separate area doubles up as a large studio / functional training area and this DOES have aircon. As it was empty when I went, it wasn't on though. The timetables claims 19 classes a week and the main gym is attractive and well-equipped with modern cardio and weight-training equipment.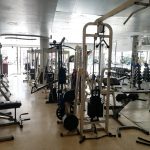 Muscle Gym Phuket is the cheapest gym I could find around Phuket Town. It's very close to Hi Gym, ie a fair walk out from Phuket Town. This fairly small gym is a fraction of the size of Hi Gym and far less modern or aesthetically appealing. That said, if you simply want a good weights workout, it's got all you'll need. Cardio equipment is limited to treadmills and bikes, both of which seemed to work well. As for functional training, there's not much happening here besides a few mats!
Summary of Gyms in Phuket Town
Clearly there are a number of factors to take into account when choosing a gym and it's ultimately down to personal preference. My recommendations are as follows.
Best on a Budget
I'd choose Hi Gym as I feel it's far superior to Muscle Gym and well worth the extra 30 baht. I'm basing this on the size of the gym, aesthetic appeal, huge functional training area and (if you're into them), classes. It also seemed a little cooler, though neither have aircon.
Best for Functional Training
Both SmartGym Fitness and Hi Gym have large dedicated functional training areas. Hi Gym wins on huge amounts of floor space, but SmartGym has a full rig, which probably gives it the edge for me (plenty of floor space here too). The two are on opposite sides of town so you might want to take your location into account here.
Best for Location
This'll depend on where you're staying, but Club Asia Fitness appeared the most central, followed by pricy Workout Club on the other side.
Best for Weight Training
SmartGym Fitness Phuket probably contains more dumbbells than several of these gyms put together! The duplicates are great for peak periods too, not that I have trained during peak times here. If you want heavy weights, this place rocks. For the regular weight trainer, all the gyms do a good job.
Best for Comfort
If you're still adapting to the climate here (and even if you are acclimatised!), I definitely wouldn't blame you for wanting an air-conditioned gym. Club Asia was the best air-conditioned facility, with an excellent temperature throughout the whole club (except the pool which is outside!). Next up is Workout Club Fitness which is pretty good but some parts of the gym just felt a little warm. Muscle Gym Phuket was definitely the hottest.
Best All-Round
There's a clear all-round winner for me – Club Asia's location, large range of facilities, comfort levels and fair price make it an easy choice for me. There's a nice "bar" area too where you can purchase soft drinks and eggs(!) within the gym and hang out – or take them to the pool.
Gyms in Karon
I identified three gyms in Karon, one of which seemed to be permanently shut. The gyms are all about 1km away from each other in a triangle.
1. Karon New Gym – 350 baht
Website
Opening Hours: 9:00 – 21:00
Cost: 350 baht a day / 1600 a week / 2000 for 2 weeks
Karon New Gym is the largest gym in Karon I could find and also the closest to the beach / accessible from accommodation. You'll find it in the north of Karon, close to the roundabout near Karon Park. As its name suggests, the equipment is new and the gym is approaching medium-sized. It's well-equipped with free weights and machines, along with a small functional training area and a few cardio machines upstairs. The temperature was also pleasantly cool thanks to the air-conditioning when I visited. Given the high cost of a day pass though, I'd expect nothing less. All in all, Karon New Gym has excellent facilities.
2. Porky's Gym – 200 baht
Facebook
Opening Hours: Mon – Sat: 9:00 – 21:00, Sun: 9:00 – 15:00
Cost: 200 baht a day, or 700 a week, or 1500 for 10 sesssions
Porky's Gym is the least central to Karon, and was 15 minutes walk south of my central accommodation there. This small gym is attractive enough, but very expensive taking into account its size, which was considerably smaller than New Karon Gym. You'll find a fair range of weights and a handful of cardio equipment.
3. Eden Fitness – 190 baht
Website
Opening Hours: 9:00 – 18:00, 7 days a week
Cost: 190 a day, 990 a week or 1500 for 2 weeks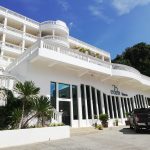 Eden Fitness is located 700m east of New Karon Gym, with a short steep hill to climb at the end – a good warm up! I tried to visit twice but it was sadly shut both times. Peering through the windows, I could see a fairly large and very attractive looking gym, including a good range of weights and cardio equipment through the window. Staff didn't respond to my messages until well after I'd left (using Line), but they have informed me of the cost and opening hours and confirmed that the club is air-conditioned.
Summary of Gyms in Karon
Whilst New Karon Gym is a lovely facility, the 350 baht price tag just isn't practical for travellers on a budget. Likewise, I considered 200 baht too much to pay for Porky's small, out-of-town contribution. Eden Fitness looked very promising and seems by far the best value for money here – but they weren't open during their advertised hours, which isn't very helpful! When I consider the relative cost and facilities in Phuket Town, I wouldn't choose to train in this small beach town. I'd come here for a day trip from town though – it's only a few baht on the local bus from Downtown Market. Or if you do want to base yourself by a beach, Kata is a slightly better bet gym-wise in my opinion.
Gyms in Kata
Kata is around 1.5km south of Karon, so I braved the midday heat and walked down to my new accommodation. Strangely, accommodation in Kata seemed a bit more expensive than Karon, although the gyms are in fact a bit cheaper.
Much like Karon, gyms in Kata are quite spread out, and all located on / just off the main road. Kata Gym is the furthest north and Smith's Gym is at the southern end.
A workout to remember – largely due to the very personable and welcoming British owner, who's clearly passionate about his gym and customers alike. Whether you want training advice or the benefit of his local knowledge, Cliff is willing to help. The gym itself is small but modern and has a good range of equipment. Whether you want to do cardio, weights or functional training, you'll find a fair selection of options. Although Smith's Gym has aircon, bear in mind it may not be in use – Cliff explained many of his regulars prefer to train without it, but he's open to turning it on. You'll see several fans in operation in any case.
Don's Gym is the largest gym in Karon that I found and the most centrally located. Equipment is considerably more spread out than Smith's Gym and there's a bit more of it. It also has aircon, however I noticed as I sweat away that it is set to a rather high 25 degrees. It still felt cool upon entry though compared to outside, and I'd take that over none, especially if you're training later in the afternoon when the heat really kicks in. Apart from that, the most significant difference between here and Smith's Gym is the space – you can easily do floor work without being in others' way in peak times.
Kata Gym is certainly the least aesthetically appealing of the three gyms I found here. Equipment was much older and you definitely won't find aircon here. The whole front it completely open though so you'll get a lot of fresh air! I would say it's probably a little bigger than Smith's Gym but smaller than Don's. Like the other gyms, Kata Gym provides a range of equipment to cater for all types of workout. The main different between here and the other gyms is simply that everything is a lot tattier and less efficiently cooled.
Summary of Gyms in Kata
It all depends on what you prioritise in a gym. If you're on a tight budget, Kata Gym is sufficient in terms of its facilities, but it's not a particularly inspiring environment using old equipment without much cooling. But it works!
Between the other two, Don's gym is more centrally located, larger and a slightly more comfortable temperature, which gives it the edge. If you're looking for a more personal gym and a good chat or advice, then head over to Smith's Gym. Both have similarly modern facilities, but Smith's are more crammed in to a smaller space.
Thank you…
…for reading my article on gyms in Phuket. I hope this helps you to find the right gym for yourself. If you found this useful, I'd really appreciate it if you could share on Facebook or your website, if you have one. 🙂 And / or please consider supporting my website by buying me a coffee or donating below, so that I can continue to research gyms to help you and others in future. Thank you and have a great trip!
or