Kathmandu to Everest Base Camp – A Personal Account
Kathmandu to Everest Base Camp, April-May 2017
Just over two weeks ago, I set out to pursue the scariest part of my travels so far – embarking on a trip from Kathmandu to Everest Base Camp. I'm still not sure what possessed me to book this. I've always struggled with cold (my definition of cold being below 20 degrees), and never particularly liked hiking. But I wanted to pick some tours with a fitness theme, and I also fancied doing a 'once in a lifetime' expedition that I'd always remember. At least, looking back, these are the only two things I can think of which might explain why I chose to risk my life up there.
I'd an interesting mix of reactions when I told friends at home I was doing Everest Base Camp. Several people looked about as impressed as if I'd said I was heading over to Yarmouth for the day, asking where else I was going. Presumably they just thought 'base' camp meant I'd be somewhere around the bottom of Everest at around sea level. And perhaps I'd be popping by to take a picture from some sort of sightseeing bus in passing. I hope they're reading this. Others however looked far more suitably impressed at the feat I was about to undertake.
Check Out World Nomads for Travel Insurance – Cover Up To 6000m Altitude
The Group
I'd booked to do this as part of a tour, well worth it not only for safety, but also to make some friends to share the experience with. So myself, an equally crazy good friend and six other blissfully ignorant participants showed up to meet our group leader at 14:00. He informed us during the welcome meeting that this was 'not a holiday' but a challenge. In case anyone was in any doubt! We were told we were not allowed to drink any alcohol or smoke throughout the trip until after we had descended significantly.  Nor were we allowed to take any afternoon naps as this could have an adverse effect on our bodies' ability to acclimatise. Eating meat was strongly advised against beyond a certain altitude due to the increased risk of food poisoning, eek. Let the bootcamp begin then!
What To Pack
The first challenge was selecting 10kg of things to take with me, from the 22kg my suitcase weighed. The second was fitting it into the bag provided from Intrepid. Note that 10kg is the limit set by the airlines for the flight from Kathmandu to Lukla airport from where trekking commences. At least stage one of getting from Kathmandu to Everest Base Camp wouldn't require too much effort from me. The pilot would be doing the tricky bit.
Additionally, our porters were not allowed to carry more than 25kg (two bags) each. Whilst most of the group managed to do this easily, I as usual struggled with packing light and had to resort to strapping my sleeping bag onto the side. I put it down to all the snacks I was taking with me, largely cashew nuts for protein and dried fruits. Oh and the chocolate.
Flying To Lukla – Kathmandu to Everest Base Camp
We set off with our leader, two assistant guides and four porters early the next day on the 615am flight from Kathmandu. Lukla is renowned as the world's most dangerous airport, with a tiny runway, eek. Why? Well, you land facing uphill in the hope that gravity will slow the plane down quickly enough to stop before you go through the fence and beyond. To be fair, the rest of the world's airports could certainly learn a lot from its efficiency. Our hand-luggage wasn't scanned, so those lethal-weapon nail-scissors I always forget to remove from my hand-luggage didn't get confiscated for once. The 100ml liquid rule doesn't apply (yay, water!) and nor do most others.
There's no such thing as a safety demo either – so within two minutes of us all boarding the little plane (it takes around fifteen passengers), we'd taken off and were airborne – no messing around here. The flight was a bit noisy and we were only given bits of cotton wool to act as a noise buffer, but thankfully I had my earplugs with me. As luck would have it, I am cursed with snoring roommates most of the time whilst travelling and this trip is no exception. So, my earplugs and I are rarely apart these days. In fact I've accumulated all sorts, as ultimately none of them work very well, most fall out and none are very comfortable. But most of them do something to at least muffle the snoring, barking and traffic noises I've become accustomed to.
A Lucky Landing
Our 40 minute flight had landed by 7am and suddenly we were around 3000m above sea level! It was distinctly chilly as we sat in a guesthouse eating breakfast contemplating the upcoming two weeks. It was already even cooler than my previous trip around Annapurna which had only gone up to 2800m, and at a more sociable hour. Thankfully the weather was bright and sunny, and we spent most of the first day descending. This was a great opportunity to get chatting to the rest of the group. We weren't counting on being able to hold a conversation ascending to the higher altitudes, so, best to get the socialising done now!
Hiking Begins – Lukla to Everest Base Camp!
Having chosen the tour for the aforementioned reasons only, I hadn't given much thought to what the scenery might be like. I'd been thinking only of layers, woolly hats, battery packs and other such survival necessities. Therefore I was very pleasantly surprised by how stunning the Himalayas are, and the gorgeous weather. Yes, it was cold, but if you keep moving you're fine at the lower altitudes and sometimes even warm in the sun. I also hadn't realised just how many animals spend their lives trekking through the Himalayas. It was quite normal to have to stop to give way to large herds of cows and ponies, and higher up, yaks. (Like cows but cuter.) They'd all walk in single file with bells around their necks, carrying various loads. Normally they were accompanied by someone urging them on from behind, vocally, with a stick, or at times, a boot.
If we weren't giving way to animals, we were giving way to porters, often carrying what looked like alarmingly heavy loads on their backs, hunched over in doing so and with loads secured over their heads and compressing their necks as well. Our porters were given a maximum load of 25kg each, but sadly this certainly didn't apply to all those we passed. As there were no roads to speak of, the only real methods of getting food and drink up and down was either by humans or animals carrying them, or helicopters. It was another world and a very pretty one at that.
Animals, Humans and Helicopters
Apart from yaks and porters, we'd regularly pass groups of people who were on their way back from base camp, mostly offering words of encouragement and smiling. The cynicist in me was thinking "well, of course they're smiling, they've done it and it's over". In any case, the ones who hadn't got on so well were clearly in the numerous helicopters we'd hear regularly flying past us! We did however pass one guy who looked rather traumatised and told us "you won't enjoy all of it"! We decided not to ask questions.
Hiking At Altitude
The first few days went by and large well for me, apart from the fear of what was to come. One of our group sprained her ankle badly on the second hiking day, battling on regardless. Several others suffered stomach problems, but I was feeling fit and well. Like most others, I had a mild headache at times (very normal at altitude) and felt a little breathless as we ascended further. But overall, I was certainly winning. Our stunning surroundings certainly helped distract from the ever-increasing lack of available oxygen.
I struggled with the cold teahouses although this was anticipated. The rooms are not heated at all, so it was common for me to sleep wearing thick trousers +/- thermal leggings, a thermal top, fleece jacket and woolly hat. This was all whilst sleeping inside a fake North Face sleeping bag claiming to keep you warm (or at least alive) down to minus 20 degrees – yeah right! And I had one or two blankets on top of that. If extra duvets were on offer, I'd use them. I got used to feeling very claustrophobic when sleeping with all that weight on top of me in a mummy sleeping bag, but thankfully it did the trick and I rarely felt cold at night.
The Temperature – Brr!
The main problems with keeping warm were at the end of the hiking day, upon entering the cold teahouses. We didn't seem to sweat much whilst hiking, but it was enough to render you cold immediately upon stopping. After the first occasion when this occurred, it took me hours to get warm again.  Thereafter, I took to taking a spare dry top in my daypack to change into immediately upon arriving. The rooms weren't always immediately available so this paid off.
Eating And Drinking
Due to the effort required to get food and drink up the teahouses, meals were very expensive for Nepal and you'd normally need to order more than one 'meal' to actually get fed properly. For example, two boiled eggs are apparently considered a meal on their own, whilst two slices of toast is another. Very few included all the major nutrients! Meals varied massively in quality; a bowl of porridge (costing up to £4) could be great, or it could just be a bowl of hot water with a couple of oats thrown in for good measure. Thankfully for my appetite, there were a number of people with small appetites and stomach bugs at any given time, allowing me to effectively act helpfully as a dustbin for their leftover food. ?
And menus in teahouses not only look the same – they are the same! They are even printed in the same font on the same colour background, all offering pretty much identical high carb food. There was seemingly a wide enough range, but it was all based around potatoes, rice, pasta and chips, with options of egg, veg and cheese to vary the flavour. It soon became very repetitive and seemed to be pot luck whether you ended up with a large or small portion, and whether it tasted any good.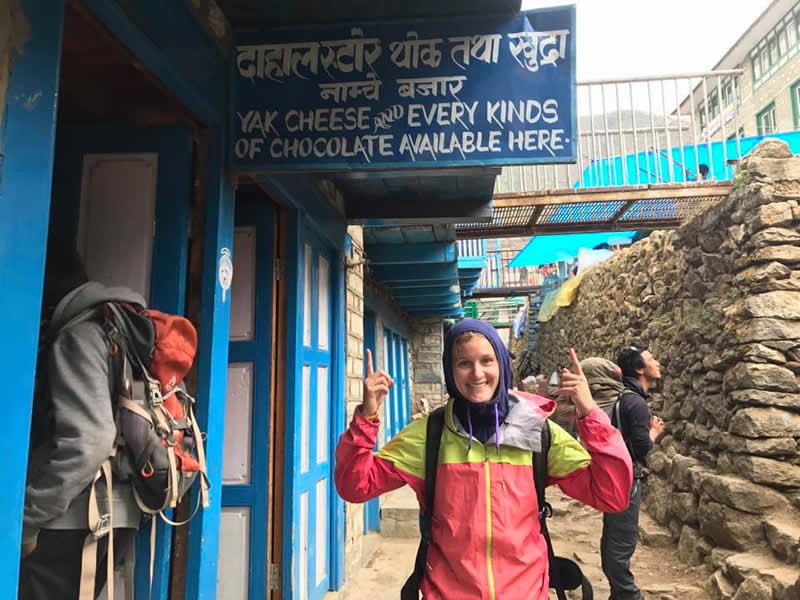 Dal Bhat
The main highlight on the food front is if you order dal bhat. This is one of the few dishes on the menu that constituted a fairly well-balanced nutritional meal. Best of all, it came with free refills (of dal soup, rice and veg curry usually) so you could at least be sure of a decent-sized evening meal. Fuel was of the essence on this once in a life trip from Kathmandu to Everest Base Camp!
Our group leader had advised us all not to eat meat beyond Namche Bazaar (3440m) due to the complexity of the logistics getting food up there and increased scope for food poisoning. I didn't take any chances and managed a week of being veggie, largely thanks to dal bhat and four bags of cashews nuts. However after two nights of unpleasant flatulence, I decided to rethink this and opted for plainer food. It didn't help. I'd still wake up throughout the night with stomach pains and more wind than I'd ever experienced in my life.
Where was all this air coming from anyway? There didn't seem to be much to breathe when I wanted it. Upon confessing this problem to a few others, I learnt everyone else was having the same issue. It's entirely normal at altitude and nothing to do with my diet. Whilst learning this didn't really solve anything, I could at least go back to eating dal bhat!
Vital Stats – Health Check en Route from Kathmandu to Everest Base Camp!
Also at Namche Bazaar, our group leader explained he was going to take our blood oxygen levels and heart-rate each night to ensure we were well enough to continue and not on the verge of collapse. We were passing warning signs everywhere about AMS (Acute Mountain Sickness). Ultimately, if you feel unwell up here, it's AMS unless proven otherwise. As it can be fatal, we were asked to fill in a form each day about how we were feeling and talk to our group leader if we had any unusual symptoms. He explained our resting heart rates would increase with altitude, with 100 beats a minute being quite acceptable. Blood oxygen levels over 80 were also considered good (but would be 100% at sea level).
Nevertheless it was very strange to experience my resting heart-rate increasing from 57 to 80, even whilst feeling ok. This made me really consider the amount of stress the body is under at altitude. My oxygen levels were usually in the high 80s, although if I didn't breathe deeply whilst it was being taken, could easily drop to 75! Best not to think about it too much.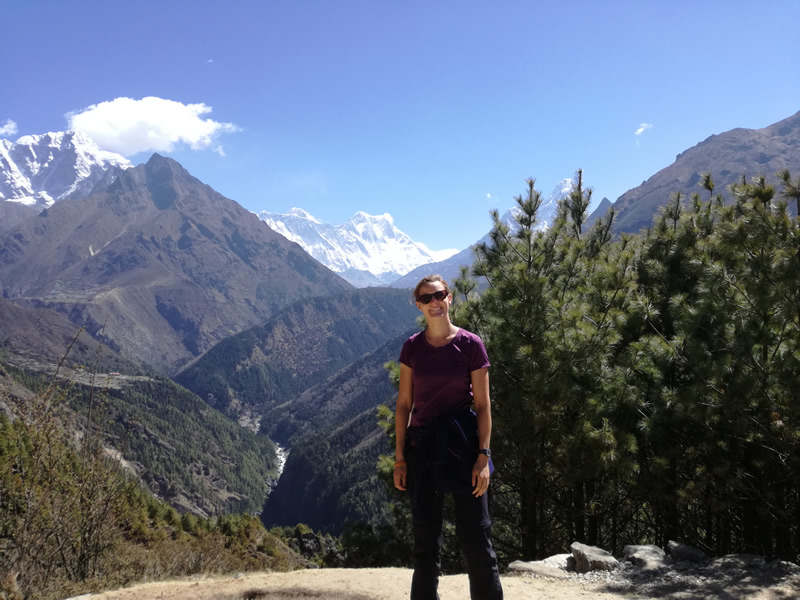 Ooh, A Bakery!
The best part about Namche Bazaar by far was the discovery of the German Hermann Bakery. Our group leader had warned us off bakeries due to potential food poisoning issues. But given that it was the warmest building we'd found by a military mile since leaving Kathmandu, it was more than tempting at around 25 degrees inside. And the fact that they offered free WiFi and mobile charging meant it was a no brainer. It provided a great venue for sitting in to dry hair and keeping warm for as many hours as I could get away with. This was probably around four the first time I went. Pizza and coffees were ordered accordingly. Money well spent, it was the best cappuccino I had on the whole fourteen day trek. A "must visit" for anyone going.
Things Get Tougher…
On our fifth day of hiking we reached Ding Boche at 4400m. I'd noticed myself becoming more and more breathless, especially at night, for a couple of days by this point. Additionally the nights were getting colder and more unpleasant. Due to the temperatures and unheated rooms, we collectively decided we were all going to give up showers at this point. Yes, you could get hot water at around £4 for a shower, but you had to use it in a freezing cold room! No chance.
None of the rooms had power points, making hair drying impossible. Not that I'd packed my hairdryer, before anyone asks, but it would have been a welcome source of heat. If you wanted to use electricity, this was at great cost and ditto for WiFi usage. I was struggling to keep warm as it was, so decided it was time to ditch hair hygiene. It didn't get washed for at least a week after this point! But as my mop lived under a thick woolly hat (and often one or two hoods on top of that), it was fairly irrelevant in the grand scheme of things.
I resorted to wet wipe washes as advised; this meant I could wash whilst remaining almost fully clothed at any given moment. Apart from the contact between the ice cold wipe and my body, the rest of me could be relatively warm.
And Colder…
I spent at least four nights consecutive nights sleeping in my clothes for the next day. My reasoning: I wouldn't have to take any clothes off upon waking up each day. It was too cold and a sure way to put me in a bad mood for the day – avoid!
The only time I would dare remove any items of clothing was immediately upon arrival after a day of hiking. I would be just about warm enough from the hike to change underwear and clothing if necessary. Then I'd reward myself with a hot drink for getting through the ordeal. The teahouses were usually heated for a couple of hours in the evening and we'd all gather round a yak-dung heater to avoid hypothermia. Thank you yaks – cute, practical animals that you are. All this was whilst playing games of trumps and backgammon, before heading to bed early.
Freezing Technology
There were three nights when our leader advised us to sleep with water bottles in our sleeping bags in case they froze. This also applied to camera batteries, phones and any other chargeable electronic goods. This was because it was so flaming cold the batteries would drain if not kept warm. Bit like my own internal battery then! No wonder I was struggling to breathe at night with the weight of all these things, multiple thick layers of clothing, a sleeping bag and two duvets on top of me. Perhaps it wasn't the altitude after all?!
Delights of Ding Boche
After arriving at Ding Boche, our group leader informed us we would have an acclimatisation day with a second night there to get used to the altitude. A day off walking then? Pfft, no chance! The following day, six of us set off for our acclimatisation walk from 4400m to 4900m. The other two (who I still envy greatly) avoided this particularly torturous walk, due to their stomach bugs and ankle sprain. We were now above the treeline for the first time. Also for the first time, I started to truly appreciate trees' contribution to the world – providing oxygen. The ascent was far steeper than it had been, and the assistant guide seemed to set off at one hell of a pace. I'd been walking near the front of the group up until this point, but found myself really struggling today, along with several others.
Whilst a couple of people continued beyond 4900m, the rest of us sat perched on a rock. We were gasping for breath despite the pathetic speed we'd dropped to, and managed to splutter our wishes to descend. It was very unpleasant and rather scary, only being able to walk at snails' pace. Worse, we were still feeling not only breathless but weak. It's very hard to put the feeling into words, but I felt physically drained for the rest of the day. Even walking up a slight incline through the village was completely exhausting.
Safety Matters
After this acclimatisation walk (or stagger), our leader asked us to attend a safety meeting. Here our group leader and assistants demonstrated the use of various safety equipment used to save lives at the higher altitudes. We were shown oxygen tanks and Gamow bags. This is a big bag that you put someone inside, and use a foot pump to effectively decrease their altitude. All this might have been very useful if we had been shown it earlier, but sitting there, not feeling 100% and feeling weak from the morning's walk couldn't have been worse timing. I was panicking too much to take in anything useful about their operation, and just sat there terrified. Was I going to end up in one of those bags or a helicopter?
I took my heart rate at rest a couple of hours after the walk. Despite sitting at rest, it had shot up to an alarming 96 beats a minute. Although within an accepted normal range at altitude, it certainly wasn't normal for me. I didn't feel right and for the first time I had real doubts about my ability to carry on, and questioned myself repeatedly why I had even signed up for it.
The Low Point of Being Up High
At this point I was very tempted to go to bed and have a nap. I felt I needed to regain some strength, but the boss discouraged from sleeping during the day, due to it being unhelpful in acclimatising. This was a real low point of the trip for me. However, I decided sitting alone probably wasn't go to solve anything, so I went to find company in the others. They'd sensibly gone to seek the warmest coffee shop they could find in the village. Thankfully the group of people who had been strangers less than a week ago were overwhelmingly supportive and made me feel a lot better. Most of us had been struggling in various ways during the trip and we did our best to help each other through. It really was an excellent group of people without whom I'm not sure how far I'd have made it.
It wasn't over yet though, we still had three days of ascent to go and something in my body had changed that day. Or perhaps it was the lack of trees. Either way, from that day on, at the beginning of every attempt at ascent, my body felt weak. I could only move slowly and I was feeling the strain. I'd feel breathless walking to the toilet, in bed at night and my chest generally felt tight.
Time to Slow Down
The group's pace had slowed generally but despite that, I was struggling to keep up with them. If I pushed myself at all, I felt lightheaded and slightly dizzy and just not right. So I remained near the back often walking alone – no-one could hold much of a conversation anyway. I decided my aim now was to get up and down in one piece and not in one of those ghastly bags.
One Porter Short
The same day, one of our porters was taken ill and was accompanied down the mountain by one of our assistant guides, where he subsequently spent several days in a hospital with a chest infection. Clearly altitude doesn't only affect the tourists; even those who endure it regularly can suffer the effects. It was yet another factor adding to the unease at the time.
Altitude Sickness and Medication
After talking with our group leader about my concerns about how I was feeling, the topic of medication came up. I asked his thoughts on whether I'd benefit from taking Diamox (acetazolamide), a drug frequently taken for altitude sickness. He advised me to start taking it. Most others had taken it as a preventative measure and had reported tingling in their fingers and later, tingling in other body areas. All part of the experience then!
Our leader explained that by thinning the blood, the drug therefore enabled the body to transport oxygen around faster, making respiration more efficient. As we had no internet access at the time and I hadn't researched it in detail beforehand, I decided to take it. It's impossible to know if it helped. I'd never know how I would have felt if I hadn't started taking it, after all! But it had some effect on me; the next morning's breakfast was accompanied by electric shock sensations in my fingers. Yup, I'm awake now. Not entirely pleasant but an interesting experience all the same. Thankfully this only lasted a few minutes but would occur on and off during the day in random places as described. Intriguing.
Walking Above Helicopters!
We were now walking above the flight line of helicopters for the most part, reinforcing just how high we were. This certainly put things in perspective for me!
The next few days almost blurred into one. The following day was considered a "short" five hour hike to Lobuche which I managed very slowly. At the end, I felt unpleasantly weird and lightheaded again. The highlight was that the teahouse we stayed in was exceptionally well-heated in the main room – hurrah! Finally a room equal in temperature to Hermann Bakery, several long days prior! These were the only two places during the whole trek which were properly heated The others merely took the edge off the icy chill, and occasionally warmed up for brief periods. Whilst the others went for a brief acclimatisation walk up another 100m, in the afternoon I decided my body had had enough and enjoyed a rest, wondering how I was going to manage the following day – a seven hour hike to base camp. The answer was, very slowly at best.
Reaching Everest Base Camp!
We awoke to snow covered mountains in below freezing temperatures at 5am. It looked stunning but was less than pleasant for walking in. Fortunately it had stopped snowing, there was little wind and the sun came out for us fairly promptly after dawn. We arrived at Gorak Shep after around three hours of walking, at 900am. This was also to be our (very cold) teahouse for that night.
After ordering an early brunch and again helping those less able at eating large volumes of food, we set off for base camp. This time this terrain was much tougher. It had all been fairly simple walking up until this point. Now we were faced with snowy boulders and slippery ones at that. Until now, we'd regularly passed cafes, hotels and shops, now there was nothing at all between Gorak Shep and Everest Base Camp. The altitude gain between the two points was only around 200m, but the challenge was the distance we had to cover. And the fact that it was all 'Nepalese flat', ie not flat at all.
We arrived early afternoon, for my part exhausted. The weather was starting to turn as it often did early afternoon. Whilst mornings would typically be bright, sunny and cold, afternoons would turn cloudy, windier and even colder.
Kathmandu to Everest Base Camp – WE MADE IT!
I'd like to say I was overcome with excitement and pride at this great achievement of hiking to 5364m but I was honestly too knackered to care! I was starting to get a sore throat in addition to general body weakness. I had also noticed some mild to moderate chest pain. Thinking of the various medical questions I ask my patients to screen for cardio and respiratory problems, I concluded I'd be quite concerned about myself if I were treating myself in clinic!
The walk back was tough, largely due to the long day, altitude and the fact it was another two or three hours back to Gorak Shep. We were walking the same route we'd just come, with nearly as much uphill as downhill. But at least we'd all made it to base camp. Just before the end, shortly before reaching Gorak Shep again, we had a long flat walk (flat being extremely rare in the Himalayas). Here I found myself walking slower and slower, until I was barely putting one foot in front of another. I was also feeling more lightheaded again. I really wanted to stop but wasn't sure I'd get up again, or find the right building if I lost sight of the person in front. So I persevered. It was over. Finally the descent could start and I'd hopefully soon feel normal again.
It's fair to say I was feeling too cold and too strange to truly appreciate my achievement at the time!
Optional Extras? No Thanks.
The next day we had the option to go up Kala Patthar, prior to commencing our descent . This would involve a 5am start and a steep ascent up to an altitude higher than base camp. It would make the total hiking day up to around seven hours. Under the circumstances, this held the same appeal as swimming in my own vomit would, so like most of the group I chose to decline.
Others were also suffering with the altitude, and yet more people had stomach problems. Most of those who chose to start this extra hike only made it part way, with just one person making the summit. The saner members of the group got to leave earlier to start our descent. I wholeheartedly looked forward to the upcoming increase in oxygen. I was mindful that it would still be a couple more days before we found my friends, the trees, again though.
The Descent – Downhill All The Way?
As we descended I noticed I wasn't feeling any better. My throat still hurt and I was still getting some chest pain. Note, I use the term 'descended' loosely. We still made many long ascents in our final days, including the long walk uphill to Lukla Airport at the end. Whilst others were able to walk faster as the altitude decreased, I was still struggling. I just couldn't understand why I wasn't feeling any better.
Our route down would take us through Namche Bazaar again, where we'd stop for lunch. Yay, pizza at Hermann Bakery in a 25 degree room! Boy, was I excited to see this place again! I looked forward to it all morning and it was equally warm as it had been before. Whilst awaiting my pizza I could feel a fever developing and at this point stopped to consider my sore throat.
Sickness Strikes
I have a history of getting tonsillitis every couple of years, usually during the winter months. I found a rare mirror by the bakery sink. Yep, pus all over my left tonsil. I can't say I was happy about the discovery, but I was relieved to finally understand why I was struggling so much.
Usually with tonsillitis I spend two days feverish in bed, feeling like death. I sleep for fifteen hours a day, until the antibiotics kick in after 48 hours. So no wonder I was struggling with seven hour a day hikes, altitude and ice cold rooms. But, needs must. Mind over matter and "attitude over altitude" as they say. I'd brought various antibiotics with me to cover most likely eventualities, including that one. Fortunately for me, I was able to start them promptly.
So to all those who ask me why I have so much stuff and don't travel lighter – this is the proof that I am carrying useful things around with me!
Protein Power
Around this time, our leader gave us the all clear to eat meat again, so buffalo steak in garlic sauce was devoured at first opportunity. I found it delicious – probably one of the best meals of the whole trekking trip. A definite morale boost and much needed.
I managed to get through the next couple of days and was more than relieved to make it back to Lukla.
I am pleased to say I have now fully recovered from the whole experience. It's not one I'll ever forget and I certainly won't be booking any more trekking "holidays" to that sort of altitude in the near future. I can't honestly say I enjoyed much of it beyond the first few days and I don't recommend getting ill. But I'm happy to look back on the achievement from the comfort of gyms and my bed.
I'll always remember the lovely people I met and have especially fond memories of Hermann Bakery. Interestingly we learnt on the way down that three people from the next group had to go back down due to altitude sickness. Considering the amount of illness within the group, we were all very happy to have made it. This was especially true for the girl with the bad ankle sprain; she went to hospital to discover it was fractured. Somehow, she'd completed almost the entire walk with a broken ankle. Ouch.
Kathmandu to Everest Base Camp – and back to Kathmandu!
Our flight back was similarly efficient, apart from an initial weather scare. Conditions were supposedly bad in Kathmandu (though I imagine, considerably warmer than here!). After we woke up at 5:00, we had to await news of the weather before going to the airport. All in all, the delay we were only delayed around an hour, phew. We happily returned to the relative paradise of Kathmandu (and no, those two words shouldn't really belong in the same sentence). It was simply amazing to be reunited with real food and facilities at last. Probably not a coincidence that my fever went down the same day and like the others, my priorities for the rest of my time there were getting a good massage and doing laundry!
NB We learnt later that our porter sadly died in hospital a few days after he descended. The affects of altitude can be fatal, even to those who regularly hike in it. Take time to acclimatise before trekking, do not hike alone and descend at once if you feel ill.
Thanks for reading my account of Kathmandu to Everest Base Camp. I hope you found it informative and fun! Please feel free to drop me a comment and check out my other pages.
Enjoyed this and want to do more world-class hikes?
Also check out the Global Gym Bunny Shop 
Kathmandu to Everest Base Camp