Crunch Miami South Beach
1259 Washington Ave, Miami Beach, FL 33139
Opening Times: Mon-Thu: 530-2300, Fri: 530-2200, Sat and Sun: 800-2100
Cost: $37 a day or $75 for 3 days
Location and Entry
Welcome to Miami! It's my first workout in the USA and I've struck gold. Crunch Miami South Beach is a top of the range fitness facility and has everything you would ever want in a gym, if money is no object. It is the most expensive facility I've encountered in the world for a day pass, but perhaps fitness comes at a price in the USA generally. Time will tell as Miami is my first stop in the US. First things first, I was greeted by the very friendly staff who were willing for me to take my time checking out the facilities before committing. Just as well too for that amount!
Facilities
This gym in Miami is well set out on one floor, comprising an extensive cardio area at one end and numerous weights down the whole length of the gym. It ended with a separate functional training area down the far end, along with some spinning bikes. You'll find everything here from Swiss balls to wobble boards, and foam rollers to TRX's. You'll find boxes to jump on and a range of boxing gloves, pads and punch bags. Additionally they've provided a dedicated fully-matted stretching area too. So, no shortage of space here!
Crunch Miami South Beach is very well air-conditioned to a comfortable temperature – welcome relief from the heat and humidity of Miami.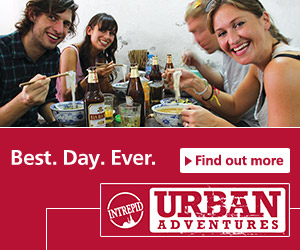 Take the Stress out of a Day Out in Miami with Urban Adventures!
Weights
I found an extensive range of dumbbells, fixed weight barbells and numerous adjustable ones including several squat racks and benches with racks. Popular machines are duplicated for busy periods and there are numerous sets of pull-up bars, so there's a good chance you'll be able to use what you want to.
Summary of Crunch Miami
It's hard to find fault with this lovely Miami gym, apart from the extreme cost. However, having paid a visit to several other gyms in the area, this sort of price is unfortunately very common. However it is in contrast to accommodation prices here, which are welcomingly low compared to other parts of Miami and indeed the US generally.
Take your own padlock for the lockers and also some ID – they wanted to photocopy my passport.
Although this is my first stop here, I will shortly be heading to the outdoor gym on Miami beach, which in contrast is FREE! Watch this space…
Want an Overview of Gyms in Miami?
I went to several different gyms here and I've summarised, compared and recommended my favourites in this article – so check out Gyms in Miami.
Enjoyed this?
Check out my Five Top Tips For Keeping Fit Around the World and
How to Look Ripped on Your Travel Adventure – For Free!
Support Me Please ?
Global Gym Bunny aka Laura has been travelling for three years, writing about gyms across the globe. If you enjoyed this article, support her here by buying her a coffee or giving a small donation to her travel expenses! Thank you.
Please Like me on Facebook and check out my Global Gym Bunny Shop.