Gyms in Saigon / Gyms in Ho Chi Minh
Welcome to my page on Gyms in Saigon. I hope you're enjoy the chaos here – I got high from crossing roads when I first arrived and started doing it for the adrenaline buzz! Hope you'll enjoy the same experience as you make your way to and from your workouts here.
Here I'll do a brief description of each gym I visited, compare them and make some recommendations to you depending on your budget, location and training preferences.
Feel free to click on each gym for a full description of its facilities, images, details of opening times and location, as well as a full review.
Here are all the gyms in Saigon which I visited here, in price order, with the most expensive daily rate first. All of these gyms are in district 1, with the exception of MMA Gym, which is is just outside it, in district 3. I visited a total of six gyms, which varied widely in cost and facilities.
At the time of writing, the exchange rates are as follows.
US$1 = VND 23 094,   €1 = VND 25 784,   AU$1 = VND 16 065,   £1 = VND 30 295
Cheap and Reliable Transportation with 12Go Asia.
High-End Gyms
As its price tag suggests, this is an elite gym and it's part of a larger chain. If you value fancy decor, top of the range, modern machinery, well-functioning aircon (who doesn't?), a good studio timetable, spacious workout areas and even a boxing section in the gym, you'll feel at home here. You can even rent a bright white towel for an extra VND 15k. But before you get too excited, think how congested the streets are in Saigon, and transfer that into a gym. Admittedly I went at busy time (late afternoon), but I just found there were far too many people here! Easy to see why it's popular, but battling to get on equipment isn't my idea of a fun workout. By all means go, but choose your time carefully.
This gym is super modern and attractive, yet only half the price of California Fitness above. Granted, the decor won't remind you of a five-star hotel, but it's a large facility which includes a separate stretching area, boxing ring and several studios. It was also far quieter (although not quite a fair comparison as I trained earlier in the day) yet there was a fair number of people to create a good training atmosphere. If you're not on a tight budget, this might be well worth splashing out on. It's well air-conditioned too and looked new with modern equipment.
Budget Gyms
Luna Gym was the closest gym to my accommodation here and the first gym I used in Vietnam. The price is very reasonable for what you get, which includes a good range of weights (free and resistance), cardio equipment and functional training equipment. The facility is much smaller than the above two gyms, but still medium-sized. Although it's a little warm, both aircon and fans were operational. You'll even get a free towel thrown in! Although it's not especially modern, everything is in good condition and in good working order. I'd go back.
Book Top-Selling Tours with Get Your Guide – Beat The Queues! 
I loved this gym – it's both a little bigger and a little cheaper than Luna Gym above and also considerably more modern. The free weights go up higher too, so it's more suitable for heavy lifters. You'll find everything in one open-plan room, so it won't take you long to work out what's where. You'll need to take a towel as they aren't provided. If you want to do cardio, you'll like the familiar machines here and best of all, the aircon. This place is an all-round winner.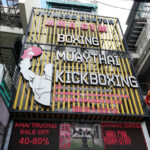 MMA Gym is the cheapest gym I used in Saigon. You'll find it in district 3, although it's less than 1km away from Advance Gym. I walked from my accommodation in Ben Thanh – a good warm up. Don't be put off by its name – this large facility is spread over five floors and you'll find a generous amount of generic gym equipment, in addition to boxing stuff. There's plenty here for weight trainers, cardio enthusiasts and you'll find a tonne of floor space, although not so many functional gym toys. There's not aircon here, but plenty of windows. I attended on a warm rainy day, but didn't find the temperature too troublesome.
Although this place has shut down since I used it, check out its sister gym close by – it's number (1) above. I've visited several of these clubs now and always found the facilities to be of a high standard.
My Recommendations – Gyms in Ho Chi Minh
As ever, choosing a gym is a personal choice and will depend on your budget, location and what sort of facilities you look for. I'll give you my recommendations based on my preferences, but do click on the individual gyms to see more detail before deciding.
High-End Gyms
Of the two high-end gyms, I recommend Advance Fitness and Gym. Whilst I liked both clubs and California Fitness had more luxurious decor for sure, this isn't something I value highly enough to warrant paying double the price. Especially when Advance Fitness and Gym was modern, clean and left little to complain about. It was also slightly closer to my accommodation, and less rammed with people. However it fell down on cardio equipment, offering only treadmills and bikes.
Budget Gyms
I'd happily train in any of these gyms in Saigon again, and as I'm not a fan of walking around hot cities for very long, I'd probably just go to the one closest to my accommodation. Location aside, aircon is certainly a big factor when training in tropical heat, and on that count, Mach's Gym has to come top. To be fair, it comes top in terms of its facilities as well, being more modern than both Luna Gym and MMA Gym.
Additionally, note that Luna Gym and Mach's Gym are around a 20 minute walk apart, and Luna also has some aircon in operation. MMA  Gym was notably hotter, but still a bargain at VND 50k!
Take the stress out of a Day Out with Urban Adventures!
Summary – Gyms in Saigon / Gyms in Ho Chi Minh
Choosing a gym always come down to personal preference and what your priorities are when training. I hope you've found the above info helpful in weighing up where to train, and I wish you a lovely time in Vietnam. Please consider buying me coffee if you like what I do – this helps to fund my workouts and enable me to keep travelling and blogging. Thanks for your support.
Enjoyed this?
Check out my Five Top Tips For Keeping Fit Around the World and
How to Look Ripped on Your Travel Adventure – For Free!
Do you need Travel Insurance?
Check out my feature on Travel Insurance for Adventurers!