Gyms in Danang
I had the pleasure of spending nearly a month in this diverse city and I have to say I loved it. I find the hustle and bustle of hectic Hanoi and Ho Chi Minh too much, but Danang was perfect. Why? You've got the hustle and bustle side of the city on one side, and then you've got the beach side. The two could be in different countries for all they have in common.
For me, it was simple – stay on My An Beach side and get a (very cheap) Grab over to the manic mayhem as and when I felt the inclination, which wasn't often, but I do like Big C Supermarket. And for those wondering if the beach side is too quiet, I would say absolutely not. It's a town in itself with tonnes of lovely restaurants and accommodation options to suit all budgets.
Shortly after my arrival in Danang I managed to sprain my ankle (not recommended), so my morning runs were off the menu. If you do happen to encounter the same misfortune, see here my article on Ankle Sprains – Why Rest is Not The Answer.
With running out of the question, I made the most of the the huge range of gyms around instead.
Gyms in Danang – Demographics and Cost
I visited a total of eight gyms, three of which were on the city side and five of which were on the beach side. When I say that seven of these were budget friendly, this does of course depend on what your budget is.
So, four gyms cost between 20 – 40k dong, three cost from 80 – 100k dong and if you're minted you might go for Elite Fitness, which costs a whopping 600k dong for one entry. Ouch, but it was luxurious.
I've divided the gyms into three cost categories and written a full review of each gym, which you can click on here. Otherwise read on below for short descriptions, comparisons and my recommendations.
Book Top-Selling Tours with Get Your Guide – Beat The Queues! 
If Money is No Object
1. Elite Fitness Danang – city side – 600k dong
2. California Fitness Danang – city side
Mid-range
3. Mega Fitness Danang – 100k dong
4. Pig Gym 2 – 100k dong
5. MMA Gym Danang – city side – 150k dong
6. HD Fitness Center – beach side, but halfway – 100k dong
7. My An Sport Center – beach side – 80k dong
Low-budget
8. The Hinh Fitness Center – beach side – 40k dong
9. Bina Gym & Fitness – beach side – 30k dong
10 CLB Thể Dục Thể Hình Star Gym Fitness – beach side – 20k dong
11. Olympia Gym Fitness – city side – 20k dong
A couple of points before we delve deeper into the gyms…
Getting Around
Note, even if you're on a budget, the cost of getting around Danang is super-cheap. Regardless of whether you're staying on the beach side or city side, you'll probably be able to take rides between the two for 15 – 30k if you're happy on a Grab bike. I found Grab cars were around 2.5 times the price – still very reasonable.
A Note on Aircon…
Just because you are in tropical heat doesn't mean aircon is a given. Many gyms do not provide it and those that do usually cost several times more. If you're on a budget and happy to go without, I recommend training early to beat the heat. Even with fans, these places get super hot. And don't expect the gym to be as cold as back home, even if the club is airconditioned. Take a towel and if you're looking to train hard, train early and take a lot of water.
Descriptions of Gyms in Danang
Elite Fitness is in a league of its own, and far surpassed all the other gyms I visited in Danang (until I used California Fitness below). You'll pay between 6 and 30 times the cost of any of the other gyms I visited for the privilege though. Having an affordable daily rate isn't top of their priorities, but offering top facilities is. You'll enjoy good aircon, free towels (even if you could have bought several new ones for yourself at this price), four studios of classes and a truly elite gym.
California Fitness is on par with Elite Fitness above. CF offers even more classes and has more studios, but has a smaller functional training area. It also seems to have more members – I'm concluding this purely as it seems busier, which could be an issue in peak times. Be aware that towel rental costs extra here. There's a nice little seating area where you can buy drinks and relax. The gym is large and caters well to most people's needs – all in all the facilities are excellent, as you'd expect from a top chain.
Mega Fitness is a great-value large gym on the city-side of Danang in Hai Chau. At the time of writing, it has an excellent weekly rate of just VND 250k and is a great all-round gym, with one room even being well air-conditioned! Bear in mind its location is a bit far north of the main city centre.
It's cheap, it's in a in a central location if you're on the City Side in Hai Chau and it's got a great selection of weights. The cardio selection is a bit of a let-down, but  it excels in functional training equipment with loads of floor space too. If you're here in summer, bear in mind there's no aircon. Full marks for a cheap monthly rate of VND 550k at the time of writing though!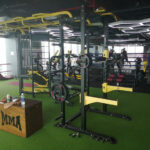 MMA Gym relocated in 2019 and can now be found by entering a bank! As you'd imagine, it's very much boxing-focussed, with a large ring and numerous punchbags. However I'd say it's a very attractive choice for non-boxers too, based on its large floor space area.
Note, the only cardio equipment here is bikes and treads and the free weights area is quite small, but fine if you don't lift heavy. It's also well-located close to a lot of the accommodation on the city-side.
HD Fitness Center is not quite so conveniently located near much accommodation, but it's between the city and beach side. It has far more mainstream gym facilities than MMA, but laid out very differently over five floors. Some floors are reasonably well air-conditioned, while others are not. But in terms of equipment, it has a fantastic range of cardio, weights and functional training to suit all workout styles and it's modern. At 100k, it's a fair price considering what you get, although some areas were uncomfortably hot.
My An Sport Center is very well located in the centre of My An Beach side. If you're finding Vietnam rather hot, this place is ideal. Not only is the gym well air-conditioned, but you can cool off in the large attractive pool too. It's not as big as HD Fitness center in terms of its gym facilities, but the effective aircon throughout makes this place a very appealing choice – my favourite on the beach side!
The Hinh Fitness Center is well located close to My An Sport Center, very near the centre of My An Beach side. Although you can't really complain about this place given its price, it is actually one of the more expensive cheap gyms. I found little to inspire me here, given there is no aircon and some not very effective fans. The gym is fairly big, but messy with old equipment and not very enjoyable to use. There are cheaper, better gyms.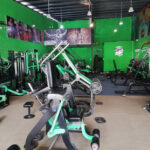 Bina Gym and Fitness is just a few hundred metres away from The Hinh Fitness Center and slightly cheaper. The two have very similar facilities, most notably tatty old equipment and an absence of any cooling. Personally I slightly preferred using Bina Gym as it was a little more inspiring there, and it was also 10k cheaper than The Hinh.
Affordable and Reliable Transportation throughout Asia 
Star Gym Fitness is less conveniently located than most of the other gyms here, but I felt it was worth venturing to. Not only is it joint-cheapest at 20k, its facilities seemed superior to both Bina and The Hinh, and the decor and equipment was much more modern. It's split over two floors / three rooms, although it's probably still not as big as the other two budget gyms.
This gym is huge and super cheap. Overall it's probably the best value for money as it has everything you'd want in terms of equipment and floor space. Naturally there's no aircon at this price, but you'll find a few fans. It's also in a great location on the city side. Yes, everything in there is old, but it was somehow a lot more inspiring than Bina Gym and The Hinh Fitness Center. Whilst not as modern as Star Gym, it is several times its size. All in all, this place is the best bang for buck.
Gyms in Danang – My Recommendations
You'll all be looking for different things in gyms, so it's impossible to recommend a one-size-fits-all gym, as it comes down to personal preference. But based on value for money and my personal preferences, I'll suggest what I consider to be the best for each budget.
If Money is No Object…
Go for Elite Fitness. It's hands down the best facilities here, of all the gyms in Danang that I found. This large luxurious gym ticks all the boxes and is part of a chain, on par with top Western chains.
Mid-range
I really liked all of the mid range options, so your location and personal preferences will probably be the deciding factor here. If you're staying on the city side, MMA Fighter Gym is likely to be close to your accommodation and is well-equipped for everything except cardio equipment. Aircon was reasonable throughout, though a little warmer than ideal. However, the day pass is a little more than both Pig Gym 2 and Mega Fitness, the latter of which was my personal favourite in this category.
HD Fitness Center is also a good bet in this category – as long as you don't mind moving around between five different floors and it's located on the beach side of the river, although not especially close to any of the main tourist areas. Some floors were air-conditioned to at least some degree, whilst others weren't.
On the beach side, My An Sport Center was my personal favourite – you can't beat a dip in this sizable pool after your workout, and the gym's aircon was the most consistent in this category. The gym is also very attractive, though not as big as the other two. However it has plenty to keep most people occupied.
Low-Budget
This category is a simpler decision – on the beach side, Star Gym Fitness wins hands down for me. It's the cheapest and has the nicest facilities, even if it's a little smaller than The Hinh and Bina Gym.
On the city side, Olympia Fitness is unbeatable value for money at the same bargain price of 20k – but has shut down since writing this. In contrast to Star Gym Fitness, it's huge but the equipment is pretty old and less attractive. The gym has character though and there is just such a vast amount of space and equipment here, it has to be my overall winner.
Summary
I hope this helps you to choose the right gym for yourself. Check out the individual posts for more info, images, opening times and in depth info about facilities. Above all, have a great time in Danang – I strongly recommend going to Marble Mountains and Son Tra Peninsula! Here, a few pics…
Check out Marble Mountains and Son Tra Peninsula Tour
If you enjoy my website and would like to show your appreciation, Please Support Me & make my day! I'm always open to a coffee or small donation – this helps to fund my travels and further research into gyms around the world, which I hope will continue to benefit you and others on their travels. Thank you for your time and effort.


See all Posts on Gyms in Danang below.