Gyms in Chiang Rai
Welcome to my page on gyms in Chiang Rai! I hope you're enjoying the cooler temperatures of Northern Thailand. Well, relatively cool anyway. I happened to be here whilst Chiang Rai was suffering with air-pollution so I didn't stay long as a result – but I managed to get to two gyms which I'll share with you here.
For full info, please click on individual links, where you'll see full details of cost, opening hours, images, facilities and my review.
PRO Gym Chiang Rai is located close to the city centre, around 800m southeast of the bus station. This great-value gym is a large no-frills facility. You won't find aircon here, but you'll find open windows and plenty of fans to help things along. The club caters well for weight trainers, cardio enthusiasts and functional trainers alike. The changing facilities were basic but clean. Train early to beat the heat!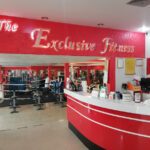 The Exclusive Fitness Chiang Rai is a centrally-located, modern and attractive gym. It's partially airconditioned, mostly with standing units. You'll find free weights up to 90lbs, along with a good amount of resistance machines, a well-equipped cardio section and a functional training area with a boxing section. The gym is spacious, clean and well-maintained. If you like classes, they offer ten a week here, including dance, boxing and strength-training.
Book Top-Selling Tours with Get Your Guide – Beat The Queues!
Other Gyms in Chiang Rai
Although I didn't have time to use any other gyms in Chiang Rai, I discovered another as I explored the surrounding area:
Six-One Gym Thailand – 50 baht per day
Facebook
1 Maekok Rd, Rim Kok, Mueang Chiang Rai District, Chiang Rai 57100
I came across this place on my way to the Blue Temple, very close to it. So you can combine your sightseeing with your exercise routine today! It's the same price as PRO Gym Chiang Rai at only 50 baht a visit.
Which Gym in Chiang Rai?
I'll just compare the two I actually used here. If you're on a budget, PRO Gym Chiang Rai wins hands down. Yes, you have to walk 800m out of town to get there and no, there's no aircon. That's it for the negatives – in terms of actual gym facilities, it's extremely well-equipped and probably bigger than The Exclusive Fitness Chiang Rai. The opening hours are very similar (click each feature to see).
If you've got a bigger budget and don't mind paying extra for comfort, The Exclusive Chiang Rai is noticeably cooler thanks to some air-conditioning units, and the equipment is somewhat more modern and attractive. You'll also have the convenience of the more central location.
Summary
Have a great time in Chiang Rai, whichever gym you choose. I hope the conditions are better for you than they were for me in terms of air-pollution – I'd have liked a morning run here in these beautiful surroundings. I've seen a lot of temples during my three years on the road and wouldn't go out of my way to see anymore. BUT what I can say is the white temple here is truly world class, whilst the blue one is unique – definitely recommend visiting.
Check out my Global Gym Bunny Shop and
Five Top Tips For Keeping Fit Around the World
How to Look Ripped on Your Travel Adventure – For Free!
Need Travel Insurance?
Check out my feature on Travel Insurance for Adventurers!