Angkor Inter Fitness, Siem Reap
Thai Huot Market, Preah Sangreach Tep Vong St, Krong Siem Reap
Opening Hours: 6:00 – 21:00, 7 days a week
Cost: $5 a go or 10 sessions for $35. These can be taken over a two month period, which I think is pretty generous.
My first workout in Cambodia – good morning Siem Reap!
Between exploring the temples of Angkor Wat and checking out Ton Le Sap, you'll surely be wanting to pump iron or burn off the looming spare tyre, so here's what Siem Reap's got for you!

Location
Angkor Inter Fitness is conveniently located in the centre of Siem Reap, just a few metres to the West of the river. It's just above the supermarket, marked visibly from the street. The entrance is obvious; but it's up a staircase to the right of the supermarket (see image above). I think there are two staircases, but the one you need has a sign above with the gym name – I only noticed this after I tried the other one!
Facilities
The gym is the most modern one I found in Siem Reap, with very welcome airconditioning and great looking facilities. The gym is fairly large with an excellent variety of equipment, a floor area and two studios.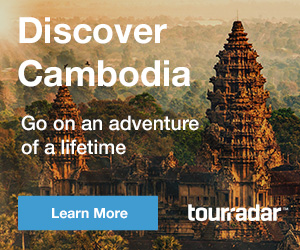 Weights
I discovered dumbbell free weights up 35kg along with several adjustable barbells.
You'll find a wide range of resistance equipment here; much of it has the old-school style rubber looking flat cable, which has a slightly different feel to it than the more modern equipment. However it was all well kept and worked well.
There are also a range of benches, including straight and inclined bench presses. I also found a couple of sets of pull up bars, a lat pulldown, assisted pull up bars and a Smith machine. There are several loadable shoulder press machines at different angles, so no excuses for skipping that delight!
Cardio
Angkor Inter Fitness offers a large cardio sections, with numerous treadmills, rowers, crosstrainers and bikes. All of this looked modern and faces out of the front of the building.
Functional Training
Beyond the cardio area, you'll find a fully matted functional training area with additional yoga mats. This contains Swiss balls, medicine balls, resistance tubes, BOSUs and a range of light weight dumbbells.
Studio and Classes
The club hosts two substantial studios, both of which are very attractive. Inside you'll find good quality mats, medicine balls, abs rollers, foam rollers, resistance bands and skipping ropes.
One studio hosts around 14 classes per week (3 most weekdays), 9 of which are ALG class (abs, legs and glutes). These run at 10:00 and 17:00. Additionally each evening, one of Spinning / Yoga / ALG runs at 18:00 each day.
The other studio hosts a wide range of classes; for full details see their website here.
Summary
This gym has Siem Reap's best and most modern facilities, including two studios. Whilst not quite on par with top Western chains, this is by far the best club I found here in terms of quality of equipment and aesthetics. Is it worth $5 per day? Yes, if you have the budget!
Want an Overview of Gyms in Siem Reap?
I went to several different gyms here and I've summarised, compared and recommended my favourites for each budget level. Check out Gyms in Siem Reap.
 Compare Great Prices on Booking.com, Agoda, Expedia, Hotels.com and more!
Enjoyed this?
Check out my Five Top Tips For Keeping Fit Around the World and
How to Look Ripped on Your Travel Adventure – For Free!
Angkor Inter Fitness, Siem Reap